1984-1990
I was introduced to the world of road rally about 1984*, while I was a student at the Ohio State University and a member of the Ohio State University Sports Car Club (OSUSCC), through that club's winter rally series. This rally series featured monthly Time-Speed-Distance (TSD) "tulip" rallies on paved public roads at safe and legal speeds. My navigator for these events and for most subsequent events was my good friend John Engle. During my association with the OSUSCC, John and I rallied first in my 1976 Volkswagen Rabbit and, later, in my 1979 Subaru BRAT. John and I later participated in the Chillicothe series of tulip rallies and the Ohio Valley Region Sports Car Club of America (OVR SCCA) and Central Ohio Rally Club (CORC) summer series of Saturday-night, non-tulip, rallies.
John and I liked rally enough that we started competing in the now-long-gone Ohio Rally Championship (ORC) series of European-style brisk TSD events in my 1984 Renault Encore (Renault 11) which had replaced both the Rabbit and the BRAT. ORC events were 100 to 200 miles in length, were typically run at night and on gravel roads, and called for brisk-yet-legal speeds. We had the most success while competing in Class B, in which rally odometers were allowed but not integrating computers, but we also competed in Class A, in which integrating computers were allowed. Some of the events we competed in were Night Moves (Newark, Ohio), Thunder Ridge (Chillicothe, Ohio), and Harvest Moon (Dayton, Ohio). Eventually, John and I organized our own ORC event, the Land of Legend, in Licking and Coshocton Counties, Ohio, for several years.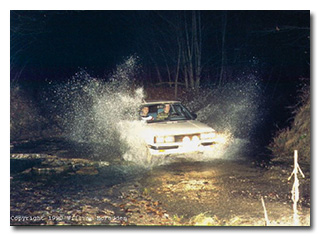 A water-crossing in an ORC event in 1986


In 1984, the OSUSCC provided stage crews for Sunriser 400 Forest Rally. (Or, it might have been the Tulip 200 Forest Rally.) John and I found ourselves serving as amateur radio equipped corner-marshals and were introduced to as-fast-as-you-can-drive-at-night-on-closed-gravel-roads rally, and I liked what I saw. I went on to serve as stage-captain for the Sunriser 400 Forest Rallies in 1986 and 1987, with OSUSCC club members manning all the positions in those stages. (Both the Sunriser 400 Forest Rally and the Tulip 200 Forest Rally were organized by Richard Paddock, whom we lost in 2015. Dick had been a pillar in the Ohio rally community and is sorely missed.)
(John went so far as to actually compete in SCCA Pro Rally, co-driving for Roland Hahn in a Datsun 510 in the 1985 Sunriser 400 Forest Rally, co-driving for Dave Rupp in a Datsun 510 in the 1986 Tulip 200 Forest Rally, and co-driving for Dave Rupp in a Datsun 510 in the 1986 Sunriser 400 Forest Rally. I was part of the Hahn/Engle service-crew during the 1985 Sunriser Forest Rally.)
My graduation in 1987 from Ohio State University—and the subsequent start of gainful employment— enabled me to start improving the 64hp Renault Encore (Renault 11) for competition in ORC rallying. In its final form, the rally car featured the following:
Suspension and drivertrain:

Renault Cup front sway bar
Renault Cup rear sway bar
heavy duty front coil springs
Renault Cup rear torsion bars
Renault GTA ventilated front disk brakes and calipers; high-performance brake fluid
Renault Cup Momo alloy 13" wheels (two sets) and stock 13" steel wheels (lots of sets)
Kleber V15 snow tires for gravel; General XP2000H and Eagle GT tires for pavement
K&N free-flow air-filter
free flow exhaust with catalytic converter removed and a SuperTrapp muffler
75-amp alternator

Cockpit:

Renault Cup 6-point roll cage, with custom designed rear shock tower brace
Flo-Fit drivers seat
Recaro co-driver seat (John had more money to spend than I did)
five-point racing harnesses for driver and co-driver
Renault Cup Momo steering wheel
Renault Alliance GS instrument cluster with tachometer
Osram Co-Pilot navigator lamp
Zeron 800 TSD dual-odometer/clock or Alfa rally computer; rear-wheel magnetic pickup
modified spare-tire well to accomodate and secure two spare wheels/tires.
fire extinguisher, highway triangles and flares, tow strap
ICOM IC-27A Amateur Radio 2-meter transceiver

Lighting:

Hella conversion headlights with 80 watt lowbeams (x2) and 100 watt highbeams (x4)
Two Hella Rally 2000 driving lamps with 100 watt bulbs
Hella 7" round 100-watt back-up lamp
All of the Renault Cup components were purchased second-hand, with many components coming from former Renault Cup racers Gary Scheeff or Carl Holbrook.
With the addition of the roll cage and other safety equipment, the Encore rally car and my amateur radio license together opened the door to my participation in the Sunriser 400 Forest Rally as the fast-sweep Course Closing Vehicle (Car 99) in 1988 and 1989, and as Course Fast Open Vehicle (Car 0) in 1990. Car 99 and Car 0 both required that the course be driven at or near competition speed, so I was able to have the Pro Rally experience without having to pay the very large entry fee or to hold an SCCA competition license. Sometime in the late 1980s, (1987, perhaps?), John and I were also able to take advantage of an opportunity to work at a start-control and as marshals at a water-crossing at the Susquehannock Trail Performance Rally in northeastern Pennsylvania.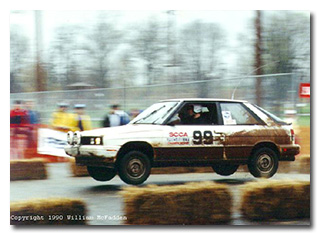 Sunriser 400 Forest Rally Yochtangee Park Yump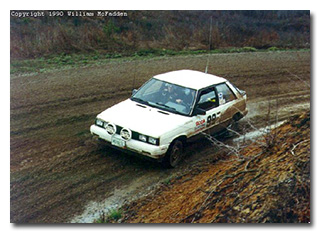 A muddy, sweeping turn at Sunriser 400 Forest Rally


However, all things end. In 1990, I left central Ohio for a job at Ohio University in southeastern Ohio and then found myself deployed with the Ohio Air National Guard's 160th Air Refueling Group to Saudi Arabia and Abu Dhabi for Operation Desert Shield and Operation Desert Storm. After the war, I married in 1992, a son arrived in 1994, and a daughter arrived in 1995. With no rally community in southeastern Ohio, I found myself leaving the world of road rally behind.
---
2021-Present
The decade of the 2020s finds me returning to the world of rally.
Beginning in 2021, my now-adult son, Miles, and I have been regularly participating in the CORC summer series of non-tulip Saturday-night events in central Ohio, usually with me as driver in my 2018 Honda Fit, but occasionally with my son as driver in his modified 2016 Subaru Impreza.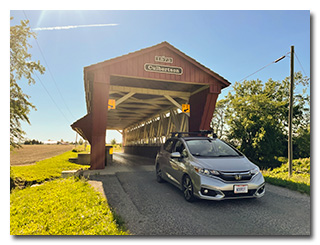 Miles and me in the Honda Fit at one of six covered
bridges encountered during the CORC rally The
Longest Day on June 18, 2022; photo by Dave Sellers


Date
CORC Rally
Position in Class
Driver
Co-Driver
Car
2022-10-08
The Ts are the Key
(Dave Bruce)
1st in Equipped
Eric
Miles
Honda Fit
2022-08-27
Here We Go Again Only A Bit Different
(Craig Wright / Pat Hoffmanbeck)
1st in Stock
Eric
Miles
Honda Fit
2022-07-23
Rally to the Seven Hills
(Barb Crockett / Dave Bruce)
3rd in Stock
Eric
Miles
Honda Fit
2022-06-18
The Longest Day
(Janis Ford / Dave Sellers)
1st in Stock
Eric
Miles
Honda Fit
2021-10-23
Fall Coloratura
(Janis Ford / Dave Sellers)
2nd in Stock
Miles
Eric
Subaru Impreza
2021-09-25
Head for the Hills
(Dave Bruce / Barb Crockett)
2nd in Stock
Eric
Miles
Honda Fit
2021-08-28
Been There... Done That... Different Way...
(Craig Wright / Eagan Foster)
2nd in Stock
Eric
Miles
Honda Fit
2021-07-31
CORC Richta Test Rally
3rd in Stock
Eric
Miles
Honda Fit
I've gotten involved in Pro Rally again, too. Miles and I worked as radio operators at the Bolster Hollow marshal-point in the 2022 Southern Ohio Forest Rally, the spiritual descendent of the Sunriser 400 Forest Rally. We hope to continue to work the event every year in one capacity or another.
---
* Actually, my earliest introduction to road rally was an episode of McMillan and Wife in which the titular characters participate in a road rally featuring classic sports cars. IMDB tells me this episode was entitled "Downshift to Danger" and that it aired in September of 1974, which means that I was 11 years old when I saw it. I remember that I didn't get to watch the whole episode because a hot air balloon passed by our house—an unusual occurance, to say the least, and quite exciting for an 11-year-old—and we all left the TV to chase the balloon to its landing about a mile north of our house. I also remember being disappointed I didn't get to see the entire episode with the cool, classic sports cars and the road rally.
---