Description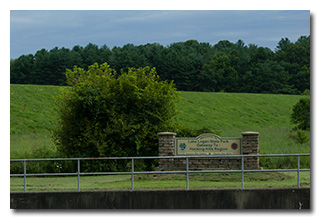 On Sunday, August 14, 2022, one member of the Southeast Ohio Radio Adventure Team performed a successful activation of Lake Logan State Park in Ohio as part of the Parks on the Air (POTA; link) program.
While on the way to Columbus to experience the Immersive Monet and the Impressionists, Eric McFadden, WD8RIF, stopped at Lake Logan State Park, arriving at the dam at about 1420 UTC. Eric was accompanied by his wife, Vickie. After finding a suitable place to park, Eric set up his 28½' wire vertical on a Jackite 31' telescoping fiberglass mast and drive-on mount. Because of the threat of rain, he set up his KX3 inside the car. Eric was on the air at 1429 UTC.
As at his previous activation of this park, Eric had good cell-signal at this location and he was able to spot himself on POTA Spots (link) and to use POTA Spots to identify possible park-to-park (P2P) QSO opportunities.
Eric had been warned by his friend Mike, K8RAT, that a Class-M solar flare was striking the Earth and that 40m was likely to be useless. Eric began his operation by using POTA Spots to look for P2P QSO opportunities and at 1431 UTC he was surprised to make a P2P QSO on the forecast-to-be-useless 40m band with KN4ZMA who was activating Manassas National Battlefield (K-0712) in Virginia. Eric tried to make some P2P QSOs on 20m but S7 noise on 20m prevented him from hearing any of the activators.
Being concerned about the band-conditions on 40m, Eric nevertheless found a frequency on 40m, spotted himself, and began calling CQ. Eric's first QSO in this run came at 1436 UTC with W4EMW in Georgia. QSOs came very quickly, with Eric's twelfth QSO in this run coming at 1445 UTC with WA3TMR in North Carolina. This run included QSOs with operators located in Georgia, New Hampshire, Virginia, Minnesota, Wisconsin, Illinois, Ohio, Kentucky, Tennessee (2), and North Carolina (2). Twelve QSOs in fourteen minutes? It seems 40m wasn't in such bad shape, after all.
Eric again checked POTA Spots for P2P QSO opportunities but S7 band noise on 20m and S6 band noise on 17m prevented him from making any additional P2P QSOs. Was this band noise due to the effects of the Class-M flare? Perhaps it was.
In all, Eric made thirteen QSOs, including one P2P QSO, in fifteen minutes. All of Eric's QSOs were CW and were made with five watts output.
Eric also submitted his log to the World Wide Flora and Fauna in Amateur Radio (WWFF; link) program.
(return)
---