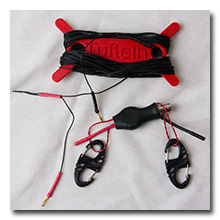 The KX2 Mini Travel Kit includes a Tufteln (link) 35' End-Fed Random Wire (EFRW) antenna (with a 9:1 transformer and a single 17' counterpoise wire), and a Tufteln 12" RG-316 BNC Common-Mode Choke. The antenna and common-mode choke were unexpectedly given to me by the builder, Joshua Ellis, N5FY, at Hamvention 2023 via Thomas Witherspoon, K4SWL. The antenna system packs up very small, is very rugged, and is full of really clever engineering—it's clear that Joshua has put a great deal of thought into the design of this antenna.
In mid-July of 2023, I purchased a Tufteln Antenna Counterpoise Add-On Kit to use with the 35' EFRW antenna. This kit consists of two additional 17' counterpoise wires on a winder and a one-to-three adapter cable to allow connection of up to three counterpoise wires to the Tufteln EFRW instead of just one. When afield, I deploy three counterpoise wires when I safely can in an attempt to reduce ground-losses. However, I have found the 35' EFRW to be an effective antenna even when only one or two counterpoise wires are deployed.
As a back-up, the KX2 Mini Travel Kit can also accommodate the proven 28½' end-fed wire antenna with three 17' counterpoise wires. This is the same antenna I've used successfully with my KX3 for hundreds of National Parks on the Air (NPOTA) and Parks on the Air (POTA) activations.
Since I don't like to fuss with throwing a line through trees to support an antenna, I usually use an inexpensive but lightweight and rugged Goture Red Fox Super Hard 720 carbon-fiber telescoping fishing pole that I can strap vertically to my bicycle, bungie to an existing post, or support on a spike stuck into the ground, and deploy my antenna on the mast as a sloper or as an inverted-vee. (I have removed the top three sections from the Goture Red Fox Super Hard 720 because they're much too whippy to support a wire.) The Goture Red Fox Super Hard 720 does not fit in the LowePro Nova 1 bag; it needs to be carried separately.
If I'm forced to hang a wire in a tree, the KX2 Mini Travel Kit includes a 100-yard spool of dental floss and a couple of large fishing weights.
When propagation is good, I might choose to use my Elecraft AX1 Multi-Band Whip Antenna and AXE1 40M Antenna Extender instead of deploying a wire antenna. The AX1 by itself provides coverage of 20, 17, and 15m when used with an antenna tuner. The addition of the AXE1 provides coverage of 30 and 40m, again with an antenna tuner. The AX1 antenna system breaks down to very small components, and the AX1, AXE1, AXB1 "bipod", and 13' and 33' counterpoise wires fit nicely in the LowePro Nova 1 bag.