I am researching various physically-small, lightweight, external battery packs to find one that will allow for 4-watt transmit power over a reasonable time period without breaking the back, legs, or bank.
NOTE: The following paragraphs on ten-cell battery-holders and AA NiMH cells were updated after I discovered a serious problem with my original experimental methodology.*
Currently, I'm experimenting with a pair of ten-cell AA battery-holders: an old one of unknown provenance (photo) and a new, mechanically-stronger one from Batteries America (p/n 10AAT, photo). When filled with ten AA NiMH cells, the resulting battery-packs provide about 14v at full-charge. The use of two AA dummy-cells will also allow the use of eight lithium primary or alkaline cells in an emergency.
I became concerned about using this style of spring-terminal battery-holder when I found an article (link) by Phil Salas, AD5X, in which he reported that this sort of battery-holder is likely to display significant voltage drop under load.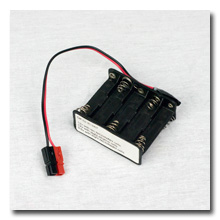 I tested the original battery-holder with ten 1900mAh NiMH cells and my KX1 transmitting into a dummy load. In addition to measuring whole-pack voltage-drop, I measured the voltage-drop of each of the individual 2,000mAh cells as I transmitted into the dummy load on 20m.
Original Battery-Holder / 2,000mAh cells
Band
ΔVpack
ΣΔVindiv.
20m
0.76v
0.52v
30m
0.79v
--
40m
0.75v
--
80m
0.70v
--
The sum of these individual drops was 0.52v, so I'm losing 0.24v in the spring-contacts and/or battery-holder's "transistor battery" output connector.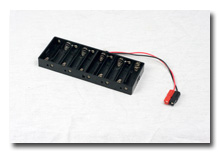 After replacing the original nylon connector with a pair of Anderson Powerpoles, I tested the same 2,000mAh NiMH cells in the new, more rugged battery-holder, this time only on 20m:
New Battery-Holder / 2,000mAh cells
Band
ΔVpack
ΣΔVindiv.
20m
0.73v
0.53v
I'm losing 0.20v in the battery-holder's spring-terminals, slightly less than with the older battery-holder.
The 0.20v ~ 0.24v drop from the spring-terminals doesn't seem excessive to me and the difference in these measurements between the two battery-holders is probably not significant. I am more concerned by the 0.53v ~ 0.54v voltage-drop I measured in the individual cells. It is likely that these older 2,000mAh cells, which have been cycled many times, are exhibiting greater voltage-drop than new cells would. To test this theory, I purchased new 2,100mAh cells to measure.
I measured the new cells as above, again on 20m into a dummy load, and found that with each of the battery-holders, the sum of the individual cell voltage-drops was 0.22v, so my speculation appears to have been correct--the new cells do have lower voltage drop under load than the old cells do.
Orignal Battery-Holder, 2,100mAh cells
Band
ΔVpack
ΣΔVindiv.
20m
0.48v
0.22v
New Battery-Holder, 2,100mAh cells
Band
ΔVpack
ΣΔVindiv.
20m
0.47v
0.22v
(As an aside, the new 2,100mAh NiMH cells are marketed by Polaroid and cost $6 per four-pack at Big Lots; the least expensive AA NiMH cells available at Batteries America, 2,500mAh Sanyo cells, cost $3 each at the time of this experiment. I don't know if the Polaroid cells will last for as many cycles as the probably-higher-quality Sanyo cells would but trying the significantly less expensive Polaroid cells seemed like a a good gamble.)
As indicated above, the new battery-holder (Battery American p/n 10AAT) is more rugged than my original battery-holder; it holds the AA cells more securely and and doesn't use a "transistor battery" connector to connect to the load. I replaced the original nylon connector with a pair of Anderson Powerpoles. This battery-holder will be my preferred battery-holder for field operations with the KX1.
In his article (link), Phil Salas, AD5X, recommends foregoing battery-holders in favor of soldered/welded battery packs but I will continue to use battery-holders. I prefer to charge my NiMH cells individually, using an intelligent charger, rather than charging an entire pack. In addition, my KX1 draws significantly less current on transmit than Phil's IC-703 does so the the I•R losses I'll experience will be less significant than that which Phil experienced.
Currently, the external battery-pack doesn't fit in the Pelican #1200 case.
I would love to try a 13.2vdc 2.3Ah 4S1P nanophosphate Lithium Iron (LiFePO4) battery pack by A123 (link). The A123 battery packs have very high capacity and are extremely lightweight but are also very expensive; an A123 pack wouldn't break the back or legs but would be very likely to break the bank! (See here for discussion about use of a 4S1P with a KX1.)
* I discovered when testing my new battery-holder that the previous measurements of the old and new NiMH cells in the original battery-holder had been made with the KX1 transmitting into a 50Ω dummy load with the KX1 autotuner configured in tune mode instead of in bypass mode; because the KXAT1 autotuner doesn't sense a mismatch and automatically tune, this meant that transmitter current--and the measured I•R voltage losses--might be also be significantly different than with the KX1 transmitting into a matched load. Comparisons of my original numbers to measurements made later of the new battery-holder wouldn't be meaningul, so I had to do all the measurements again.