The K1 can operate over a voltage range of 8.5vdc to 15vdc. My K1 is not equipped with the KBT1 internal battery option so I must power my K1 with an external power source.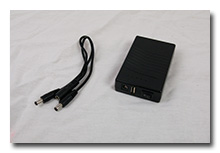 Originally the K1 Travel Kit included a Talentcell 12v 3000mAh lithium ion battery pack (link). While this small, lightweight, and inexpensive LiPO battery is called by its manufacturer a "12 volt battery", the battery, which is made up of three 3.7v LiPO cells connected in series, is actually an 11.1v battery. However, 11 volts is more than enough to keep the K1 happy and the battery should have sufficient capacity to power the K1 for several hours in the field. As a bonus, the Talentcell battery also includes a USB port which can be used to power or charge a smartphone or tablet, if needed, even while the battery is powering the K1.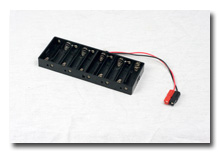 Now, I carry a rugged ten AA-cell holder (Batteries America p/n 10AAT, photo | link) I can fill with ten 1.2v NiMH cells or, in a pinch, eight alkaline cells (1.5v, 2.2 - 2.7Ah) or lithium primary cells (1.5v, 2.8 - 2.9Ah) plus two dummy cells. Either way they're configured, these packs are nominal 12-volt packs. I am currently using a set of ten Sanyo/Panasonic Eneloop 1900mAh NiMH cells with this battery-holder. (See KX1 Mini Travel Kit for a discussion on spring-type AA-cell holders.)
Note to Self: W1PID is using a PowerFilm LightSaver and a Baofeng USB to 10V Smart Charger to power an MTR-4B transceiver (link). The LightSaver (link) solar panel charges an internal 3200mAh battery and outputs 5vdc to a USB port. The Baofeng USB to 10V Smart Charger (link) converts 5vdc from a USB port to 10vdc. The K1 can operate with a supply voltage as low as 8.5vdc so such a scheme might work with the K1. While both the LightSaver and the Baofeng are limited to 500mA output, W1PID says his scheme works with the MTR-4B because at reduced voltage the MTR-4B produces lower output power and draws less current. The K1 should behave similarly.