After reading the article Antennas and the QRP Operator by Jim Thompson, W4THU, in Low Power Communications, Volume 2 (edited by Rich Arland, K7YHA), I built a 20m Extended Double Zepp. This is an 86' foot doublet and is fed with balanced line. W4THU claims the 20m EDZ will provide 4dB gain over a 1/2-wave dipole on 20m, performance similar to a dipole cut for 40m and 80m on those bands, and useful gain over a dipole on 10m and 15m. I built my first version with lightweight hookup wire for the elements, using military buttons for the center and end insulators, and fed it with Radio Shack "Ultra Low Loss" 300Ω TV twinlead. During the 1998 QRP ARCI Fall QSO Party this antenna worked very well on 15, 20, and 40m, and also tuned easily on 10m and 80m. After the event, I "ruggedized" the EDZ with a 35mm film-canister center insulator.
After using both the portable 20m EDZ and another installed permanently at home, I decided the 20m EDZ provides nodes that are too narrow for general use and that the QRP Station in a Bag needs an antenna with more omni-directional coverage. Towards that end, in preparation for the 1999 Arizona ScQRPions "Freeze Your B___ Off", I changed the 20m EDZ (now fed with 300Ω windowline) into a 70' doublet. I chose the 70' length based on the chart of "lengths to avoid" in Practical Wire Antennas. Unfortunately, at FYBO, I found that the antenna could be tuned only on 40m with the MFJ-901B, so I cut about three feet off of both ends which allowed the antenna to tune well on 15, 40, and 80m, but it still wouldn't tune on 20m. (It is quite possible I misinterpreted the "lengths to avoid" chart.)
Ron Wiesen, WD8PNL, described a field-portable doublet antenna in this email to me. His doublet is made with clear-insulation speaker wire which his tests have shown to have very low loss when used as a feedline. Ron has reported good results with this flexible and inexpensive antenna.
Doug Hendricks, KI6DS, and Howard Zehr, N9AHQ, describe similar field-portable 44' doublets that are light enough to be supported by a 20-foot "Black Widow" fishing pole. Their designs use computer ribbon-cable and are described in these articles:
NorCal Doublet by Doug Hendricks, KI6DS, at NorCal
Crappie Portable Antenna by Howard Zehr, N9AHQ, at AmQRP
Crappie Portable Antenna by Howard Zehr, N9AHQ, at NorCal

In an email to me, KI6DS wrote that the first 150 QSOs with his doublet at 20' included forty-four states and six DX countries. Tests conducted to determine the loss-qualities of ribbon-cable when used as feedline showed that it is, in his words, "lossy, but not too". His doublet was rugged enough to stay up at his home QTH for a couple of years before falling down. (For a different view on zip cord feedline, here is an article by KK6MC/5 describing zip cord feedline losses.)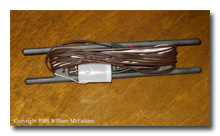 I had intended to build a doublet this type, using either ribbon-cable or zip-cord as the feedline and elements, but upon looking through my wire-box, I found that I didn't have a enough of either material on hand. I did find, however, a marvelous military-surplus "Hughes Aircraft MK-911 Dipole Fixture #1540368" which included 30' of excellent low-loss 72Ω military twinlead, so I built a doublet using this 72Ω twinlead as the feedline, two 22' pieces of ribbon-cable as the legs, a film canister for the center-insulator, a fishing-swivel to hang the thing, and military "BDU" buttons as end-insulators. The "Dipole Fixture" itself was designed to serve as a center-insulator, center support, strain-relief, and wire reel for a doublet/dipole but is far too heavy to hang from a "Black Widow" 20' fiberglass fishing pole. However, it serves beautifully as a tangle-free spool for transport of the doublet elements and feedline.
Here are photos of the completed 44' doublet:

I've erected this antenna, supporting it in the center with the Black Widow, and verified that the Z-11 will tune it on all the MF/HF bands. (I don't expect this 44' antenna to radiate well on 160m, but it seems the rig will be happy to pump RF into it!) I used this antenna during the 2005 Freeze Your B___ Off contest. It worked very well on 20m and 40m. No activity was heard on 80m during this daytime contest, so I don't know yet how the doublet works on 80m.
The Black Widow supports the doublet as an inverted-vee without problem, but there is significant bowing at the top of the pole. I am curious as to whether a NorCal Doublet (built with one continuous length of computer ribbon-cable and no center-insulator) would cause less bowing of the Black Widow. I also remain curious about the feedline-loss of antennas made of ribbon-cable. Eventually, I hope to run some tests on ribbon cable as a feedline and possibly make a NorCal Doublet to test. In the meantime, the doublet, as constructed, remains a viable field-portable antenna.
In the summer of 2009 I acquired an MFJ-1910 33' telescoping fiberglass mast (link) that I hope will be useful in field operations. This mast is very much like a larger version of the 20' Black Widow I have been using. Reviews of this mast (link) indicate that it is fragile so I will use it to support only very lightweight wire antennas and will support these antennas at the second-from-the-top section to reduce mast bowing. I used this mast to support a an 88' doublet (see below) during the 2010 2010 Arizona ScQRPions "Freeze Your B___ Off" event and the mast did a yeoman job of supporting this antenna with only insignificant bowing (photo). To support this mast, I have re-engineered a retired roof-top TV antenna tripod. (Note: replacement elements for the MFJ-1910 mast are available from MFJ but they are no longer just $5 each.)
In order to use the 44' doublet with the 33' MFJ mast, I made a 30' feedline-extension from a second piece military 72Ω twinlead. (Alas—I have lost this feedline-extension; any ideas where I might find more of this nice twinlead?)
For improved performance on 80m, I made a lightweight 88' doublet to be supported by the 33' MFJ-1910 mast; it is constructed of 24AWG speaker wire and light-duty 300Ω TV-type twinlead, a film-canister center-insulator, and military "BDU" button end-insulators.
According to L.B. Cebik, W4RNL (SK), who called both the 44' and the 88' antennas "Broadside Doublets", both antennas should provide a broad directional pattern on the bands they're designed for. My original 44' doublet should work well on 10, 12, 15, 17, 20, 30, and 40m. The 88' doublet should work well on 20, 30, 40, 60, and 80m. (Read L.B.'s article, "My Top 5 Backyard Multiband Wire Antennas", in the Fall, 2009 "QRP Quarterly". The article is available online here in PDF format.)
Myron Schaffer, WV0H, has performed an interesting and insightful Smith Chart analysis of the 88' doublet (link).
I tested my 88' doublet during the 2010 Arizona ScQRPions "Freeze Your B___ Off" event and found that the LDG Z-11 matched the 88' doublet easily on 20 and 40m but the best the Z-11 could do on 80m was about 2.5:1. This antenna worked well during the 2010 ARCI Fall QSO Party, and it even allowed me to make a two-way QRP QSO with Hawaii on 15m, a band it's not supposed to work well on. As during the previous event, the best match I could achieve on 80m was about 2.5:1. It's likely a slightly different feedline length would allow a better match on 80m.
UPDATE 1: After using the 88' doublet suspended as an inverted-vee on the 33' mast for the 2011 Arizona ScQRPions "Freeze Your B___ Off" event I have begun to re-think this antenna's usefulness. Propogation was very poor the day of this event and very few stations were heard on 20m. In fact, I heard only three FYBO stations on 20m, and all were located in Florida. I later learned that K8RAT, just 150 miles or so north of me, heard many stations on 20m with his 98' doublet suspended horizontally at 40' and worked FYBO stations all over the country on 20m. I have verified that the 88' doublet is neither open nor shorted at the center insulator, the feedline and legs aren't open, and the balun is properly constructed and performing as it should. I am left with the conclusion that either the doublet is too directive on 20m--it's effectively an Extended Double Zepp on 20m--or that it was close enough to the ground when supported as inverted-vee from the 33' mast that the take-off angle was high enough I simply wasn't able to hear most of the stations on the band. The problem may be, in fact, a combination of both of these.
UPDATE 2: I used the 88' doublet suspended as an inverted-vee on the 33' mast the week of July 11, 2011 while in Lexington, Kentucky. The primary goal was to make daily contacts with K8RAT in north-central Ohio on 80m and, as such, the low height of this antenna would be expected to provide good NVIS performance, and it did. However, even with an unmeasured length of 300Ω twinlead added to the feedline to reach the operating position the LDG Z-11 could not achieve a match of better than about 2:1. Despite the high SWR, daily contacts were made with K8RAT although 9-watts was the most the K2 would generate without complaining. The Z-11 easily matched this antenna on 15, 20, and 40m although no operating occurred on these bands.
UPDATE 3: I tested the 88' doublet again during the 2011 Adventure Radio Society "Flight of the Bumblebees". Even though 80m isn't used for this event, I took the opportunity to find a feedline-length that would allow the LDG Z-11 to tune this antenna on 80m. I removed all but two feet of the random length of twinlead I had added in Lexington and the Z-11 tuned this antenna/feedline combination easily. The antenna also tuned easily on 20m and 40m. (Unfortunately, I didn't think to check tuning on the other bands.)
UPDATE 4: I've retired the LDG Z11 QRP Autotuner in my K2 Travel Kit in favor of the K2's internal autotuner (KAT2). At the 2012 QRP ARCI Fall QSO Party at Mount Gilead State Park I verified that the KAT2 can match the 44' doublet with 60' of 72Ω feedline on all bands 10m through 80m, inclusive.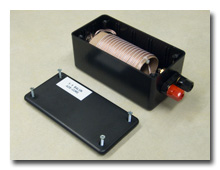 UPDATE 2015-06-07: I finally constructed a 44' doublet and a 1:1 air-core balun (photos: 1 | 2) from 22-gauge speaker wire as suggested by Ron Wiesen, WD8PNL, over a decade ago. (See above.) Instead of tying a knot at the doublet's center, I used a button as a strain-relief/center-insulator. As with my other field antennas, military "BDU" buttons serve as end-insulators. The overall length of the antenna is 76' (22' for each doublet leg plus 54' of feedline) so this antenna should be easy to tune on 10, 15, 20, and 40m. The benefit of this antenna over my existing 44' doublet fed with military 72Ω twinlead is that this antenna is made of continuous lengths of wire with no solder-joints to fail.