The KX3 covers all bands 160m through 6m. It would be very challenging (or, more likely, impossible) to find a single easy-to-deploy field antenna that works well on all of these bands. Fortunately, I am primarily interested in operating on the bands 80m through 10m while in the field, making the task of finding a single field-deployable antenna that's small enough to pack easily much more manageable.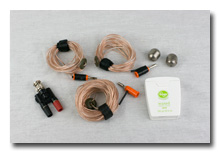 Currently, for 10m-40m, I carry a 28½' end-fed wire and three 17' counterpoise wires. For 80m, I have a 58' (source) end-fed wire I have tested once in the in the field. The low-hanging 58' wire tuned well on 80m only when the (then) 28' wire and two of shorter wires were connected as a counterpoise. (Note to self: N7RR reports that a 58' radiator with one 13.1' counterpoise loads on all bands 80m-6m on his KX3 with KXAT.)
I use a BNC-to-dual-banana-socket adapter to connect the end-fed wire and counterpoise wires to the KX3.
To hang wire antennas in trees, I carry a length (~66') of very small parachute cord in a camping-style clothesline reel; I typically spool the line fully out of the reel, tie the free end to a half-full disposable water-bottle, and lob the bottle over a tree-branch or, if the tree is small, over the whole tree. I also carry a 100-yard spool of dental floss and a couple of large fishing weights to use in a similar fashion. Note to self: Consider painting the fishing weights highway-safety orange.
For the 2016 National Parks on the Air activations, I carried an MFJ-1910 33' fiberglass telescoping mast, a re-purposed roof-top tripod, stakes, and a hammer in a canvas military-surplus antenna-bag. (Photos coming soon.) I quickly found that erecting this mast assembly to support the 28½' end-fed wire is usually quicker and easier than throwing a line over a branch—and it works when there isn't a tree or branch available.
Descriptions of field-deployable antennas I've used with the larger K2 Travel Kit are located here. Any of the antennas that worked well with the K2 Travel Kit should work well with the smaller Enhanced KX3 Travel Kit but may need to be carried externally.
Note to self: Consider the W3EDP Jr. antenna (link) for 10m-80m operation.