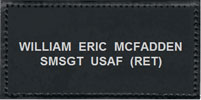 In mid-2007, I retired from the Ohio Air National Guard after a twenty-six year career with the 160th Air Refueling Group and 121st Air Refueling Wing at Rickenbacker Air National Guard Base near Columbus, Ohio.
My service saw the end of the Cold War, and I participated in Operations Desert Watch and Desert Storm, Northern Watch, Noble Eagle, Enduring Freedom, and Iraqi Freedom. In addition to duty within the continental United States, I deployed to Alaska and Hawaii, Denmark, England, France, Saudi Arabia, Spain, Turkey, and United Arab Emirates. I served in the Air Force Communications Service (AFSC), the Air Force Communications Command (AFCC), the Strategic Air Command (SAC), and the Air Mobility Command (AMC).
I have written a short journal about my experiences during Operations Desert Shield and Desert Storm.
In a former life, Road Rallying was an expensive passion.